The elegant solution for your flower deliveries in Liège.
You want to please an acquaintance who lives in Liège (4000) or simply offer you flowers, delivered directly to your home?&nbsp In addition to being a floral designer and florist, the delivery of flowers to Liège (Liège), it is our job. Our selection of bouquets available today for delivery (Saturday 02 December 2023)
Bouquet of the Month
from December to Liège.

Select
<! ------------ COLLECTION ------------------------------------------------------>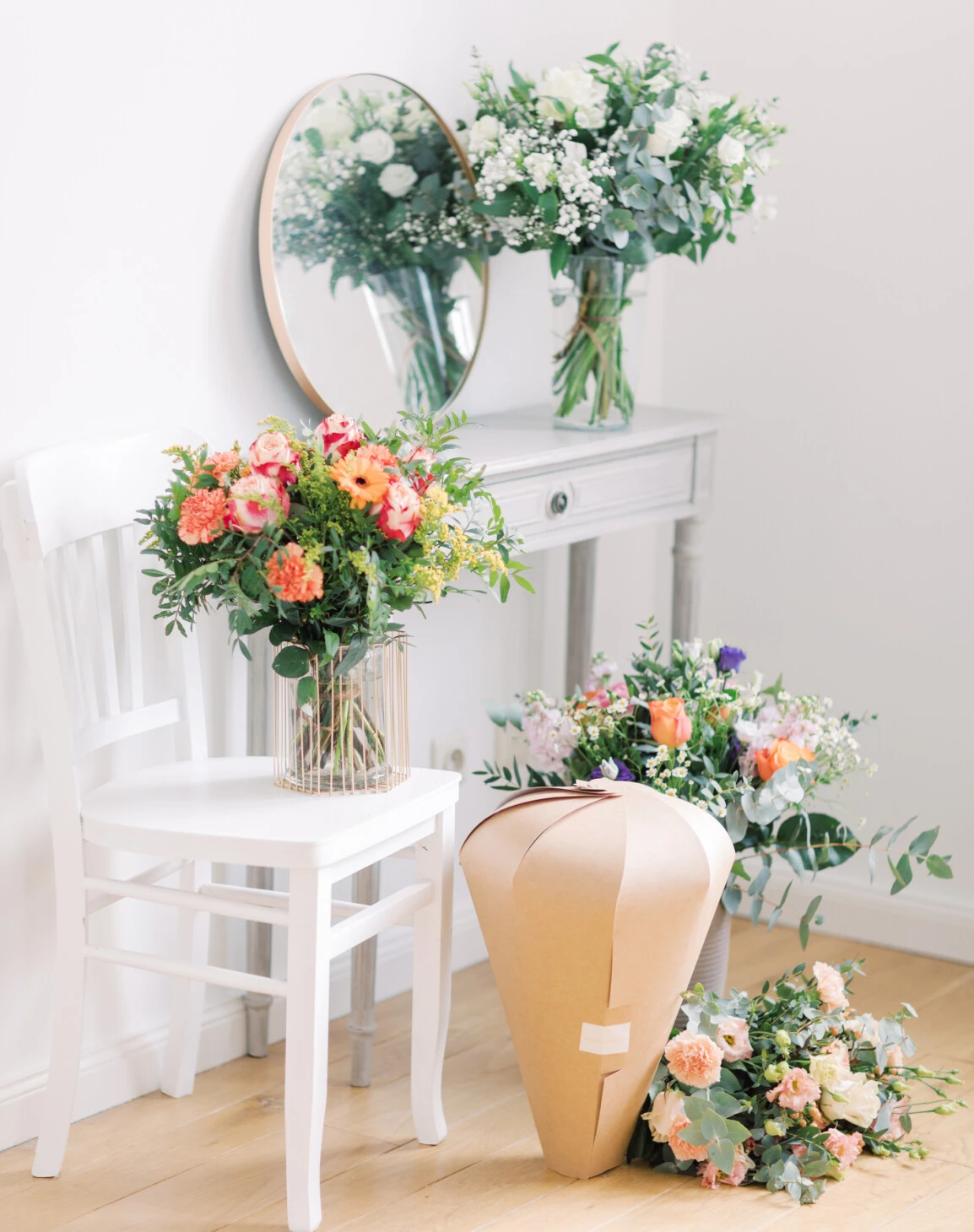 We deliver the most beautiful bouquets of flowers in Liège
mademoiselle is a selection of 6 flower bouquets per season, in a price range from 30 to 90 euro to buy online. You will be spoilt for choice. Country, romantic, refined or sparkling bouquets that will enchant the heart of the one who will receive it, whether for a birthday, Mother's Day, flower delivery Valentine's Day or simply to show his love or support to a friend with a flowery gift. And for the most romantic, we have the perfect gift: a beautiful bouquet of red Naomi roses, the romantic touch par excellence for the most refined Liège residents. All wrapped up in a beautiful packaging (and well protected for transport), accompanied by a little word delicately printed on a cardboard, delivered to the home with a smile.
Send a bouquet anywhere in Liège, for less than 9,95€ the delivery!
With mademoiselle, getting flowers delivered in Belgium and Liège has never been easier or more elegant. Our team of floral designers whose workshop is located in the capital of Brussels put all their knowledge to offer you a range of floral composition available for delivery whatever the address of the recipient (home or workplace) in Liège or in the related municipalities (Liège, Liège, ...). We have in Belgium the lowest delivery costs on the market!
Terms of delivery
Our delivery areas
We deliver our beautiful flower bouquets everywhere in Belgium from Tuesday to Saturday. In Brussels, we deliver them the same day (before 4pm)!

Delivery rates
For Liège, the delivery cost is fixed at 9,95 €. We can boast to be the lowest on the market.

Delivery methods
The delivery of bouquets, even in Liège is complex due to the fragility and delicacy of flowers. To guarantee absolute freshness, we have developed a packaging system that is not only very aesthetic in cardboard (no plastic), but also ideal for keeping your bouquet sublime. Only the stems are immersed in a small, moist, plastic wrapping that guarantees them nutrition even during their journey to Liège. After having hesitated between DHL, La Poste, DPD, UPS... anxious to have 100% control of the delivery, we opted for our own delivery man. Our Brussels delivery man and his delivery vehicles are specialized in the transport of fragile products and handle the box with care. We also require him to reflect our commitment to excellence in customer relations. A text message will be sent to the recipient that morning and the bouquet delivered with a smile and all the respect that a luxury product and service requires.
<!//--------------------------------->
Bouquet of the Month
from December to Liège.

Select
Select
Select
Select
Select
Select
Select

Lys blancs parfumés

€32.50

Select
Select
<! ------------ COLLECTION ------------------------------------------------------>
We deliver our beautiful flower bouquets within 24 hours to Liège.
A question? Contact us by email
Every neighborhood in Liège (4000) is covered by our bouquet deliveries.


We deliver our bouquets of flowers to every neighborhood in Liège (Liège): Guillemins, Outremeuse, Naimette-Xhovémont, Amercoeur, Pierreuse, Avroy connue pour son parc, Saint-Laurent, le Quartier latin de Liège, Féronstrée et Hors-Château où l'ESA se trouve.

Quelques quartiers de Liège connus sont le quartier Outremeuse, le quartier des Guillemins, le quartier Saint-Léonard, le quartier Belle-Île et le quartier Cointe.

Chez nous, nous sommes fiers de pouvoir livrer des fleurs fraîches et des bouquets artisanaux dans tous ces quartiers de Liège ainsi que dans les nombreuses places et rues qui portent un nom de fleur: la Place des Roses, la Place des Tulipes, la Rue des Jasmins, la Rue des Marguerites et la Rue des Violettes. ous sommes fiers de pouvoir à la fois livrer des fleurs dans le cadre d'un événement mais également pour décorer ou encore comme hommage à un proche, par exemple en les faisant livrer sur la tombe d'un aïeul dans un des nombreux cimetières liégeois: le Cimetière de Bonne-Espérance, le Cimetière de Coronmeuse et le Cimetière de la Couronne.

Enfin, nous offrons également la possibilité de faire livrer des fleurs à un ami ou à un proche qui se trouve à Liège, que ce soit dans un hôtel comme le Radisson Blue Hotel, l'Hôtel Monnaie ou encore l'Hôtel de la Couronne.

Si vous souhaitez offrir un cadeau original et unique à un ami ou à un proche à Liège, n'oubliez pas de faire appel à nous pour une livraison de qualité ! En effet, ce faisant vous lui offrez également un clin d'oeil à l'oeuvre du célèbre artiste liégeois Constantin Meunier. - Liege


All important municipalities (Liège) served:
Seraing (4100), Verviers (4800), Herstal (4040), Ans (4430), Flémalle (4400), Oupeye (4680), Saint-nicolas (4420), Grâce-hollogne (4460), Huy (4500), Chaudfontaine (4050), Eupen (4700), Visé (4600), Herve (4650), Soumagne (4630), Hannut (4280), Fléron (4620), Waremme (4300), Dison (4820), Sprimont (4140), Amay (4540), Wanze (4520), Liège (4020), Liège (4000), Blégny (4670), Esneux (4130), ...


The municipalities that we serve most often in Belgium :
Flower delivery Bruxelles, Flower delivery Anvers, Flower delivery Gand, Flower delivery Charleroi, Flower delivery Schaerbeek, Flower delivery Anderlecht, Flower delivery Brugge, Flower delivery Namur, Flower delivery Leuven, Flower delivery Molenbeek-saint-jean, Flower delivery Mons, Flower delivery Ixelles, Flower delivery Aiseau-presles, Flower delivery Aalst, Flower delivery Uccle, Flower delivery La Louvière, Flower delivery Tournai, Flower delivery Geraardsbergen, Flower delivery Seraing, Flower delivery Mouscron, ...


We deliver in all the provinces of Belgium :
Antwerp
Flemish Brabant
Walloon Brabant
Brussels
West Flanders
East Flanders
Hainaut
Liege
Limburg
Luxembourg
Namur

<!//--------------------------------->
Bouquet of the Month
from December to Liège.

Select
Select
Select
Select
Select
Select
Select

Lys blancs parfumés

€32.50

Select
Select
<! ------------ COLLECTION ------------------------------------------------------>
Questions about our online flower sales service